SO WHAT! Wednesday, I'm linking up with Shannon over at
www.lifeafteridew.com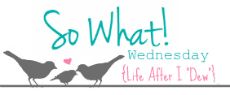 This week I'm saying SO WHAT! to
I just got back from our vacation on Monday and nothing has been touched since we got back. I should have taken off from work on Tuesday to get caught up on the 12 piles of laundry I need to do.
Its okay, the boyfriend hasn't touched our RZR either.
I was so sleepy Tuesday that I barely remember working. HA
I look forward to 4:00 Monday - Thursday.
I dealt without power or water for the majority of the Memorial Day weekend and I was okay with it. Boyfriend turned me into a redneck girl, Yes??
I haven't cooked dinner in over 10 days and I'm completely okay with that. Tonight will change that. BOO!!!
Today at work, we're having BBQ once again. Hasn't everybody had enough BBQ over the last few days. Come on people, one of the biggest BBQ days was just Monday. ICK on BBQ!
Now its your turn, go and link up!!!!!